Look, externally, I was living a great life. I met a perfect girl, had fun with her and our friends, got two kids, and made a small investment in the house from my girlfriend's mother, and everything was fine.
Until I started feeling constantly tired. Mood swings. The rage inside and towards friends and all other family members who I was just fine with before.
It was far away from fine… It started slowly, but it became worse. Thankfully, I met my friend who told me about The Detox Miracle Sourcebook: Raw Foods and Herbs for Complete Cellular Regeneration.
And the journey to detoxification started. It went way down… because the fruits were cleaning me SOOOO fast I could not cope. I could somehow operate in the summer, but in winter, things were depressing.
I went forward and backward with fruits, going to my old diet and trying to hide and cover up all emotions that were coming up. Not just coming, bursting.
I could not handle it…it was so much…and I did not understand what was happening, so I decided to escape.
I got the opportunity to work in Gran Canaria, called paradise on Earth. Consistently good weather, excellent fruit…just the perfect life to live with my family and fruits.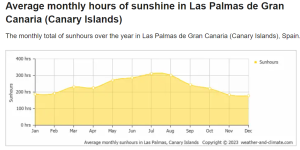 Source: Average monthly hours of sunshine in Las Palmas de Gran Canaria (Canary Islands), Spain (weather-and-climate.com)
Man, that was one of the best times of my life. However…I said, we are on vacation here…we need to get into school and all the stuff to see how it is to live here.
So with more pressure…old problems and habits begin to crip in. The project I was working on fell apart. Everything was falling apart.
My old identity, I was dying. Or I felt so. I still did not manage my emotions well. I was eating fruit and moving up the pyramid with the mind, with pressure, with dedication, not with self-love and letting go.
So the time came to say goodbye to Gran Canaria, and we went home, with a short stop at Portugal, where we lived near the woods on a small family land for a month or so.
With money in the bank account, things were still pretty OK, but mood swings were worsening.
Then the real problems came. I was changed. Totally. What I was feeling inside came out with no control. So many emotions. Even beyond what somebody could explain.
I was exploding.
Everything was bursting out of me in Slovenia…and then I collapsed. I could not go any further. I stopped the fruit diet and went on a regular diet. But thankfully, the fruit diet made the magic.
Although I tried for a year to return to my old diet, old habit…the old me, the old system was done. It took time before I confessed I was the problem.
I have this bad movie inside me.
Not just yet. I blamed the house, the girlfriend, her mother, my parents, kids, stress, my job…everything around me. I moved away from my family, saying goodbye to my now ex-girlfriend.
It was better at the start, I had peace of mind for some time, but then, what happened?
My old bad movie came back…and I could not avoid it. It was just me in a rented apartment. Who else is to blame here?
I had a perfect job with minimal work hours, so nothing could be responsible for feeling so bad.
Then I realized. It is not JUST what you eat. It is also what you eat emotionally, what you say to yourself, and how you communicate with others.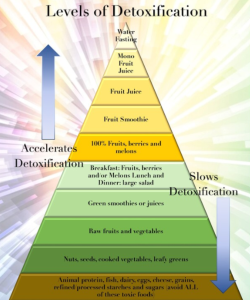 Source: Detoxify – Light Embody
Could you look at this pyramid? It is SOOOO simple. The left side represents the brain.
Remember. We attract based on what we feel. So, a lousy movie inside of me? This is what is attracting problems / my feelings.
And then I started. Again, from the beginning.
Working on my emotions. Using AEQ to increase my body's emotional intelligence.
Any technique works in some way. It is just essential that you work MORE on the emotional side when you go to any detoxification.
This is the hard part and most rewarding part.
I had this question and answer in front of me for a long time. I was doing the International School of Detoxification – DVD series.
The question was: "If your client is eating raw foods and taking herbal formulas and is still not getting well, what would you need to look at next?"
Emotional issues

Mental issues

Spiritual issues

ll of above
This was the answer to my problems inside. All of the above.
Supplements? Yes, they can help. Glandulars? Yes, they can help. Nothing is beyond or above self-love inside.
The music that plays inside me. Everybody has to take care of this; with this, collective vibration will rise.
This is the most important and the most challenging thing everybody must do.
I welcome you to this journey. I am available for free help and consulting about this journey.
You can call me at 00 386 40 776 579 (what's up, Viber, SMS, or phone) or email me at: rok.meglic@gmail.com.
I am happy to share my knowledge.
Certificate of Detoxification Specialist help. A personal journey, learning by doing…even more.