The search for a purpose driven and connected lifestyle has never been so urgent.
The need to redefine health and wellbeing towards a more human-empowered, knowledge-driven and technology-enabled approach is reaching a broader crowd each day, where the consumption of information has outstretched its peak and still going.
In the last couple years (and particularly in the winter months), we're sure you've come across a certain word: Hygge.
But what in the world does hygge mean exactly?
Pronounced "hoo-ga," this Danish concept cannot be translated to one single word but encompasses a feeling of cosy contentment and well-being through enjoying the simple things in life.!
You really don't need to go far in order to 'find' it.
A pair of fluffy socks and a nice cup of tea by the fireplace, maybe?
Or even laying down on the soft grass watching the clouds go by.
You might've experienced hygge without even knowing it.
In our modern society, where walls seem to have grown higher and people isolated themselves in small family unit conglomerates, finding one's life purpose seems to be an even bigger challenge.
"We all have something to offer – a skill, a passion, something you're good at.
Now, find a way to use your superpower to make a statement.
The Japanese call this your IKIGAI – The use of your talents to provide what the world needs."
Author of the international best-seller The Little Book of Hygge, Meik Wiking
Combining the Japanese words iki, meaning life and gai, meaning value or worth, ikigai is essentially about finding your purpose in life. 
"Ikigai can be translated as "a reason for being" – the thing that gets you out of bed each morning.
Considering that Japan is known for having some of the longest-living citizens in the world–87 years for women and 81 for men per the country's Ministry of Health, Labour and Welfare – ikigai could also be the secret to longevity.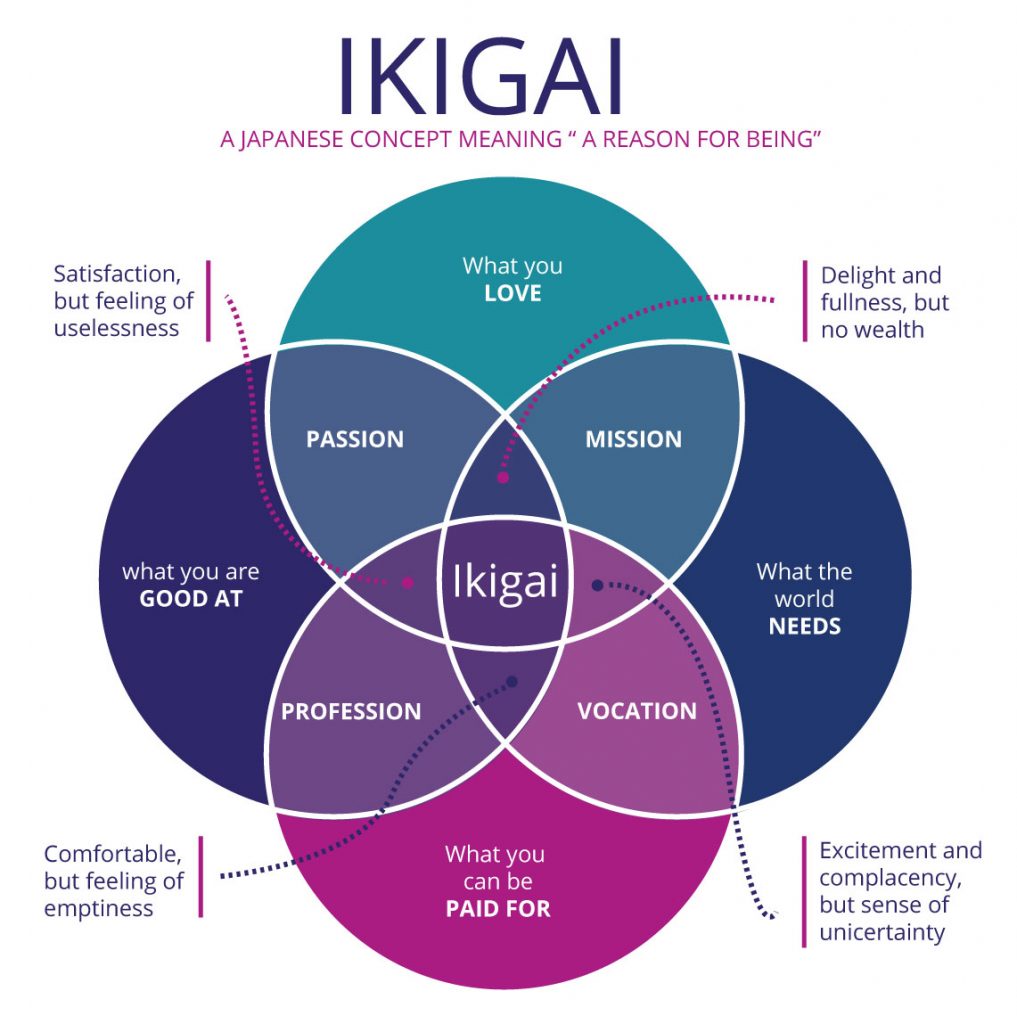 But how to Find Your Ikigai?
Ikigai is often associated with a Venn diagram of where the following elements overlap:
What you love

What you are good at

What the world needs

What you can be paid for
What you find at the intersection of those four lists is your ikigai. If you've already retired, you can remove "what you can be paid for" from those elements and you can still find your ikigai from the remaining three.
"So whether that's copywriting, illustration, public speaking, product designing or purely leadership, you have something unique to assist with the shifting to a world without a throwaway culture."" – Alice Forrest, Australian marine scientist and public speaker.
Asking yourself "Why am I doing this?" has been proven to be very helpful, too.
When we enter a state of 'flow' we lose the sense of time passing.
Once you notice what tasks you do in a state of "flow," try to make changes in your life to focus on the things that have more meaning to you.
By being mindful of this concept, it might just help you live a more fulfilling life.
Brazil - September, 2021
Bia Figueiredo
Digital Wellness – DStudio